The North-West Regional Development Agency created the Regional Strategy for Sustainable Urban Mobility and Smart Cities of the North-West Development Region 2021-2027.
The documents can be downloaded and analyzed by clicking on the button below: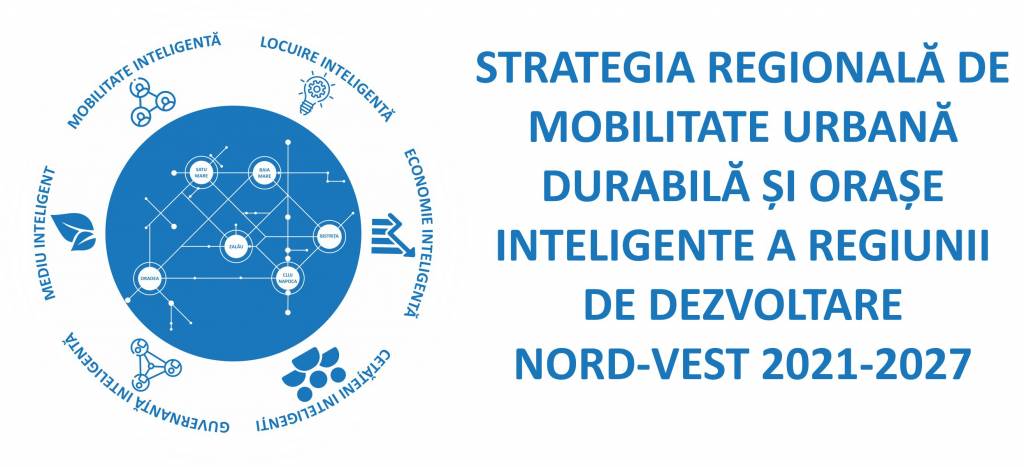 The documents can be downloaded individually and from the links below.
Regional Strategy for Urban Mobility and Smart Cities 2021-2027 – Short versionUnload
Final Territorial AuditUnload
Strategic agendaUnload
Regional Strategy for Urban Mobility and Smart Cities 2021-2027 – Final versionUnload
Monitoring the StrategyUnload
Smart City Maturity ModelUnload
The proposed vision envisions the Northwest Development Region in the year 2030 as a smart territory supported by a network of interconnected and innovative cities that use technology to facilitate sustainable development. Thus, innovation, the relationship between administration and citizens and care for the efficient use of resources are the key to the progress of the region.
The smart North-West region relies on a digital network of localities made up of regional, county, micro-regional and local innovation centers and cities that develop on smart city levels according to potential: tourism, energy – environment, quality of living, education and so on
At the local level, municipalities and cities have data collection infrastructure, networks of sensors and other devices that form IoT (internet of things) networks, generating complex data sets, available to the general public and used to ensure better management of the city, services, but also the production process.
Public ConsultationsUnload
City sheets of the North-West Development RegionUnload
Project CentralizerUnload
Summary Strategy – ENUnload
Strategy Summary – ROUnload