The project C-Voucher is coming to an end, after two years of intense activities aimed at supporting the development of innovative solutions for the circular economy, in the direction of resource sustainability, combating waste, environmental protection.
The consortium, made up of 13 partner organizations from 6 European countries, developed and administered two types of financing schemes for innovative solutions for the circular economy, by granting innovation vouchers and support services, aimed at businesses in the agri-food industry, the processing industry , textiles, water and health. 54 projects from 15 countries were selected, with a total budget of 4.2 million euros.
54 companies benefited from the C-Voucher Acceleration Programs (30 of which will end the acceleration program at the end of March 2021), being assisted by mentors on designthinking components, business development, public funding opportunities and coaching for attracting funding private: 12 companies benefited from 60,000 euro vouchers for prototyping and testing circular economy solutions in a 12-month acceleration program, and another 44 companies analyzed the feasibility of a circular economy solution in their own activity, through assistance for 3 months when developing a Business Plan and later through a 15,000 euro voucher.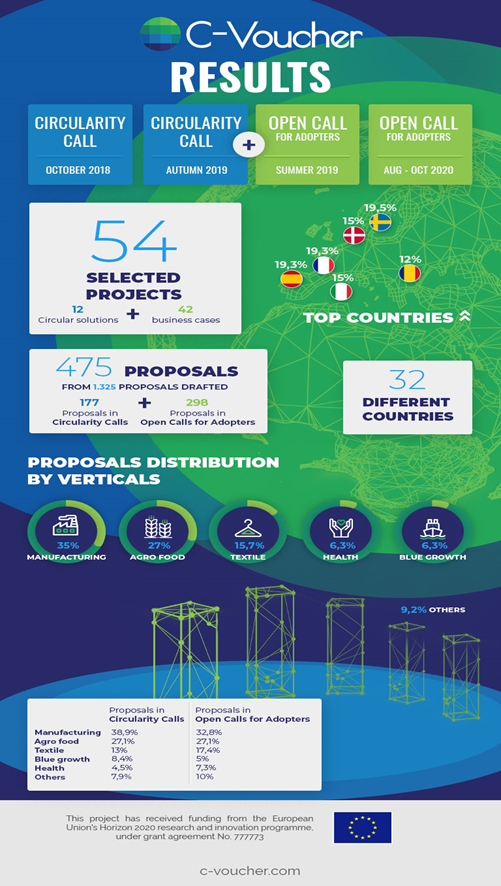 The Northwest Regional Development Agency, a partner organization in the project's European consortium, invites interested organizations from Romania to join C-Voucher Community, to benefit from access to the methodology and tools successfully developed and applied to support innovation in enterprises.
Developed in the form of a TOOLKIT, in English, C-Voucher Resource Center provides access to documentation for the development of circular economy strategies and support programs for the development and implementation of innovative solutions, as well as the opportunity to participate in 7 weekly online sessions, in which C-Voucher partner organizations share their experience and discuss issues of common interest that can be flagged on the C-Voucher Community Forum.
Follow the steps to sign up C-Voucher Community – Calibration Program  and register for online outreach sessions from March 18 to April 29, 2021:
---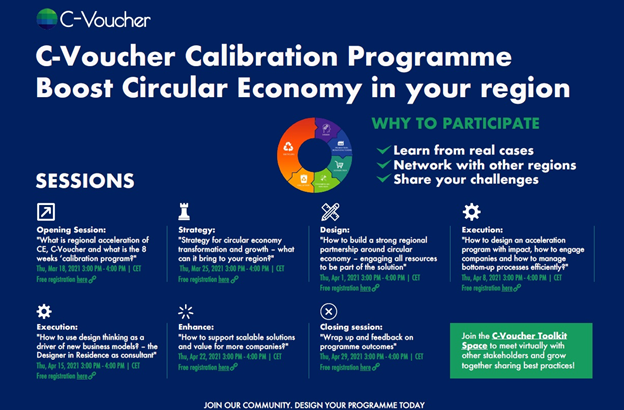 Opening Session: "What is regional acceleration of Circular Economy, C-Voucher and what is the 8 weeks calibration program?"
18 Mar 2021, 4:00 PM – 5:00 PM
Link: https://register.gotowebinar.com/register/6279399280205160975
Strategies: "Strategy for circular economy transformation and growth" - what can it bring to your region?"
25 Mar 2021, 4:00 PM – 5:00 PM
https://register.gotowebinar.com/register/4885815570999173135
Design: "How to build a strong regional partnership around circular economy - engaging all resources to be part of the solution"
Apr 1, 2021, 4:00 PM – 5:00 PM
https://register.gotowebinar.com/register/1620325410132534287
Execution: "How to design an acceleration program with impact, how to engage companies and how to manage bottom-up processes efficiently?"
Apr 8, 2021, 4:00 PM – 5:00 PM
https://register.gotowebinar.com/register/4954576829177314831
Execution: "How to use design thinking as a driver of new business models? – the Designer in Residence as consultant"
Apr 15, 2021, 4:00 PM – 5:00 PM
https://register.gotowebinar.com/register/4570293117223129615
Enhance: "How to support scalable solutions and value for more companies?"
Apr 22, 2021, 4:00 PM – 5:00 PM  
https://register.gotowebinar.com/register/9048348890457183503
Closing session: "Wrap up and feedback on program outcomes"
Apr 29, 2021, 4:00 PM – 5:00 PM
reference: The C-VOUCHER project is implemented between April 2018 and June 2021 by an international consortium of six countries consisting of development agencies, accelerators and clusters and is financed by the Horizon 2020 research-development-innovation program of the European Commission.
https://c-voucher.com/community/
https://smes-open-call.fundingbox.com/
https://call-for-adopters.fundingbox.com/
Article by: Ioana Dragoș, Project Manager