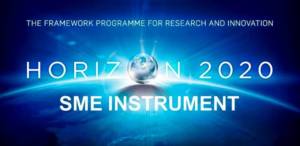 Agenţia de Dezvoltare Regională Nord-Vest, în calitate de centru Enterprise Europe Network, cu sprijinul Comisiei Europene (Directoratul General Regio şi Politică Urbană), organizează, în cadrul "Iniţiativei pilot pentru regiuni mai puţin dezvoltate", în colaborare cu Camera de Comerț și Industrie Maramureș,  o training session Regarding the development and implementation of projects financed by the Horizon 2020 Program - Instrument for SMEs.
The training will take place in English language on the date of 26 septembrie 2017 and will take place at Baia Mare, la Centrul de Instruire și Marketing al Camerei de Comerț și Industrie Maramures, fiind susţinut de expertul contractat de Comisia Europeană Jonathan Loeffler, director al Fundaţiei Steinbeis din Germania.
during the day, participants will learn from theoretical presentations combined with practical exercises how to develop a successful application to obtain financing under this financing line. After the training, they will receive comments on the elaborated project ideas, the best ideas receiving additional support in order to develop and submit a concrete project.
Training is address representatives SMEs with innovative potential, from the Northwest Development Region, With priority, from the following areas: agri-food, cosmetics and food supplements, health, furniture, paper, plastic, packaging, manufacturing and metalworking technologies, IT&C.
Participation is free of charge, but conditional on înscrierea până la data de 15 septembrie 2017 through completing the registration form accessible here: https://goo.gl/forms/JyM8tjPRoSO2LUB93
Locurile la acest eveniment sunt limitate la maxim 20 participanţi. Din acest motiv încurajăm înscrierea unei singure persoane de la o companie.
We reserve the right to give priority to SME representatives in the fields mentioned above.
Documente ataşate:
Brief description of the training and the Tool for SMEs