ADR Northwest hosted on December 12, 2018 the fourth meeting of the Regional Committee of Representatives (CRR) established within the RCIA project - Regional Creative Industries Alliance (Regional Alliance of Creative Industries), a group that brings together 30 support organizations that are active in the cultural and creative industries (ICC): Transilvania Creative Industries Cluster, Cluj Innovation Park, Transylvanian Order of Architects, Cluj-Napoca University of Art and Design, Babeș Bolyai University, Cluj-Napoca Technical University, Transilvania Trust Foundation, SC Hola Flower SRL.
The discussions held during this meeting focused on the selection of relevant good practices from the region in the ICC to contribute to the development of the regional action plan for this sector.
For this purpose, the study visits and the exchange of experiences carried out at the level of the consortium between the partner regions, visits in which representatives of the CRR participate alongside the experts involved in the implementation of the project are relevant sources of information in order to develop the regional action plan that will indicate the directions of action from the sector in order to develop it.
This time, the results of the study visit and the good practices in Greece were presented, following the meeting that took place in September, a visit attended by Bianca Muntean, the executive director of ARIES Transilvania, in addition to the representatives of ADR Northwest.
The existing good practices in the region as well as the elements of analysis necessary to carry out a sectoral study at the level of the North-West development region completed the agenda of the meeting on December 12.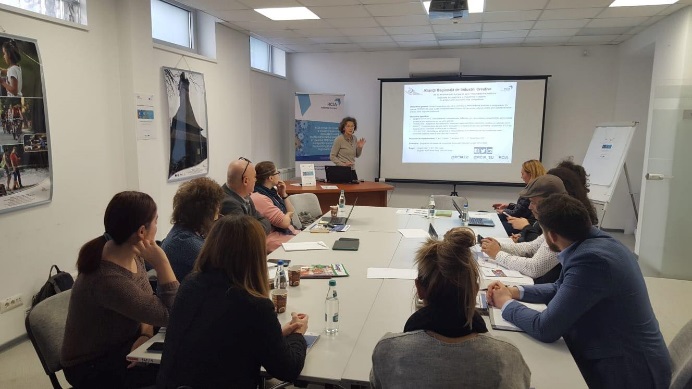 The RCIA project, implemented by ADR Nord-West facilitates access to good practices and exchange of experience for relevant actors in the field, through the consortium created, which brings together 9 partner organizations from as many countries, respectively: Austria, Belgium, Denmark, Greece, Italy , Latvia, Poland, Romania and Spain. The project is financed by the INTERREG EUROPE cooperation program and will run until 2021.
More information about these best practice models as well as additional information about the Regional Creative Industries Alliance project can be obtained by visiting the website: https://www.interregeurope.eu/rcia/